Coffee machines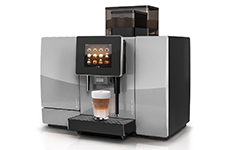 As part of our coffee solution, we work and represent UNIC, FRANKE and Carimali offering both traditional and fully automatic bean to cup machines.
Apart from these machines, we also carry a range of small coffee machines for use in offices, meeting rooms and even for your home!

Since 1919, UNIC has been recognized as one of the principle leaders in professional, traditional, pod-based and automatic coffee machines. Built on its experience and capacity for innovation, UNIC machines combine ease of use and optimized coffee extraction.
Releasing all the taste and aromas of the most subtle coffees and responding to user productivity needs are the goals that drive the UNIC professional teams.
Reliability, technical advance and quality are the key words of our expertise upon which a complete range is based – Tango, Z, RUMBA, PONY... a range that has been granted various international patents in relation to standards and the environment (ISO 9001 version 2008, Environment Charter)
UNIC is represented across the five continents through its distribution and sales network and has a direct presence in the United States and Japan. Millions of cups of coffee are produced everyday around the world using UNIC machines, demonstrating the success of the company's philosophy dedicated entirely to quality.
Download

UNIC Mira Product Brochure


UNIC Stella Product Brochure


UNIC Stella Technical Sheet

Carimali is an historical Italian company specialized in the production of professional coffee machines since 1919. Carimali is one of the very few companies in the world that offers a complete range of traditional and super automatic coffee machines.
The passion for innovation and the dedication to customers makes the company a world leader in the coffee machines industry.
Download

Armonia Touch Product Brochure


Cento Multi Product Brochure


Armonia Soft - Accessories


Armonia Soft - Brochure


Armonia Soft - Features


Blue Dot - Brochure


Blue Dot - Features


Mya Product Brochure

FRANKE Coffee Systems is one of the world's leading suppliers of fully automatic coffee machines and is part of the Franke Group, which operates globally. The company comprises subsidiaries in Switzerland (company headquarters in Aarburg), Germany, the US, UK and Japan.
FRANKE coffee machines are designed with Swiss precision, focusing on every detail. The edge cutting coffee extraction technology ensures coffee consistency and the innovative milk foam system, FoamMaster™, allows setting up a different milk consistency for different beverages. Advanced technologies, intuitive systems and user friendly interface of FRANKE machines are a guarantee of wonderful coffee moments.
Download

Franke A200 Brochure


Franke A600 Brochure


Franke A800 Brochure


Franke Foam Master Brochure